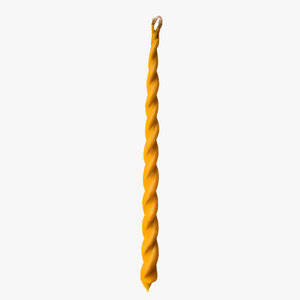 this wonderfully decorative style of 100% beeswax candles with hemp wick have been used in Italy for centuries with the dual wick creating a dramatic flame

the natural scent of beeswax varies as wild-harvested pollen changes seasonally and is meant to offer a purifying effect when burned

produced in medieval Umbrian town of Bevagna, these 100% pure beeswax candles are hand-dripped using techniques that date back to the Renaissance

IMPORTANT INSTRUCTIONS FOR USE: keep away from flammable materials and burn in a well ventilated space. As the hemp wicks are untreated, the flame burns large. Be sure to trim the wick before each use to prolong burning time and minimize flame size. Extinguish with a wick snuffer if possible. 

13.5" height
Il Buco started life in 1994 when independent filmmaker Donna Lennard and her Italian partner, Alberto Avalle, opened an off-the-beaten path antique store on cobblestoned Bond Street. The Il Buco Family is now multiple restaurants, and an artisanal home line inspired by owner Donna Lennard's travels throughout Italy.
You can find more from Il Bucco here...