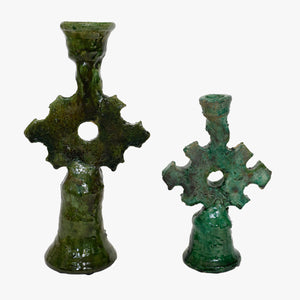 Tamegroute

 

"star" 

candle holders are created by artisans following ancient influence and culture of the south of Morocco
each piece is unique, entirely made by hand and its imperfections are part of their charm and the crafting and glazing process
green glaze is unique to the town of Tamegroute and made of oxidized copper and magnesium
hand wash
SMALL:

 

8" height x 4" width

LARGE: 

10" height x 6" width

made in Tamegroute, Morocco
You can find more from Anajam Home here. . .