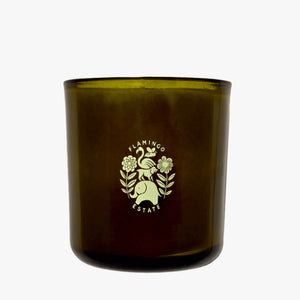 the scent of the flowering heirloom tomato is ripe, supple and bursting with juice, catapulting us to memories of late summer dinner parties in Sicilian gardens 

essential oils in these candles were inspired by the verdant gardens at Flamingo Estate

made of 100% vegetable wax
60 hour burn time

8 oz. container made of fully recycled glass

hand poured in Los Angeles
Flamingo Estate is the 1940's California home and garden of Richard Christianson, a renowned brand builder. His exquisite products are all rooted in his passion for nature and beauty and his quest for intimacy — between plants and people, body and spirit, heaven and earth.
You can find more from Flamingo Estate here...