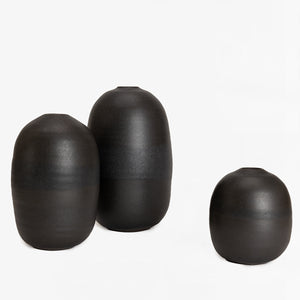 wheel thrown orb shaped "Will" vase by ceramicist Eric Bonnin
matte black glaze over black stoneware
SMALL: 4" height X 3.5" diameter 
MEDIUM: 7" height X 5" diameter 
LARGE: 9" height X 5" diameter 
made in Long Island City, New York
Eric Bonnin has been working with clay ever since moving to New York City from Paris in 1994. Ceramics seemed like the perfect challenge after having studied the decorative arts and worked in the contemporary furniture world in Paris. When creating his pieces, Eric's aim is to combine functionality with simple decorative elements.
You can find more from Eric Bonnin here...